Banner Package
$2,06700

$2,067.00

Save $207
---
---
Going for maximum visibility? Have a product you want to sell? Food, perhaps? The banner at the top makes it easy for people to read whatever information you want to put up on there. A menu or price list is a common request for these banners. This canopy package includes a durable pop up tent frame, along with a fully printed tent top, printed full wall, printed rail skirts, and a printed tent banner.
-Commercial Grade Pop Up Frame
Don't settle for a disposable pop up tent frame that's going break on you in a few months. We're talking about the ones they sell at stores. This package includes with your choice of sturdy frame. Choose between our entry-level 2-year warranty Econo Max steel frame, 8-year warranty Dura Max, 9-year warranty Rhino Max, or our Lifetime Warranty Gorilla Max frame.
-Fully Printed Canopy Top
Take advantage of a fully printed tent top. Since this is the main part of the tent, you want to make sure it shines. At POP UP TENTS we want to make sure you're going to love your tent top, which is why we use the latest in commercial printing technologies. We want to ensure your tent has stunning and vibrant graphics that are going to last. An added UV coating also prolongs the lifespan of the graphics and material.
-Printed Full Wall
You also get a printed single sided full wall that measures 7'x10'. Take advantage of one of the largest sections of the tent and fill it up with something bold. This tough wall is constructed from the same durable material as the tent top, so it's sure to last. This wall is also UV coated to resist fading.
-Printed Rail Skirts
These short side walls add appeal and advertising space while leaving room for ventilation and visibility. These are good for use when your tent is out and about and not directly next to another trade show spot. Metal rail hardware and leg adapter straps are included. These single sided printed short walls measure 30"x10'.
-Printed Table Cover
Table covers are great because they're super convenient to set up and take down. Don't feel like setting up the tent for a simple indoor show? Use the table cover by itself! This table cover can be branded any way you want. Fold it up and put it in a backpack, for easy transport.
-Printed Tent Banner
This 30"x10' printed tent banner can dramatically increase the visibility of your tent. The top of this banner reaches over 10' in height, thus improving your chances of being seen in heavily populated areas. This banner can display an important message or provide useful information such as pricing or options. Tent mount brackets and hardware is also included.
-Roller Bag
Don't break your back lifting up heavy frames, roll them instead! This package includes a standard roller bag for easily wheeling your frame around. Special design makes it easy to load up your tent frame without struggling. The external pouch allows storage of stakes and ropes.
-Stake and Ropes
Secure your tent using these stakes and ropes. Use the strong nylon ropes for tying down. You can also tie to weights, like sand bags or ballasts.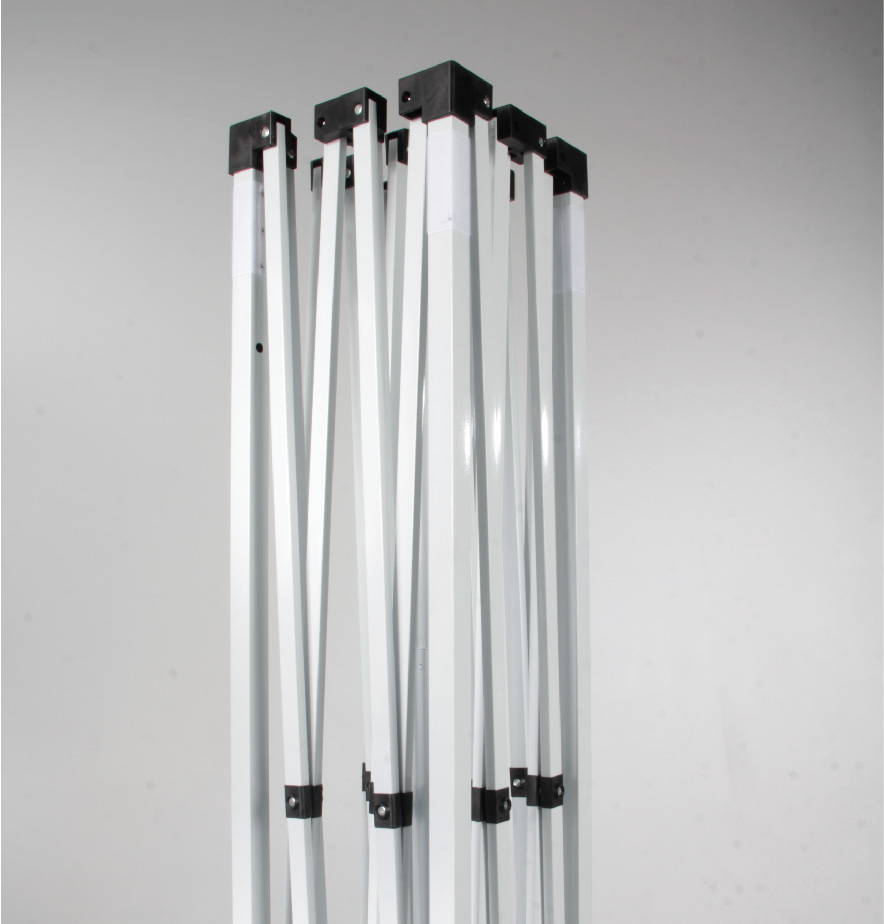 The Econo Max is our entry level heavy duty pop up tent frame.
Powder Coated Steel Frame
2 Year Frame Warranty
58 LBS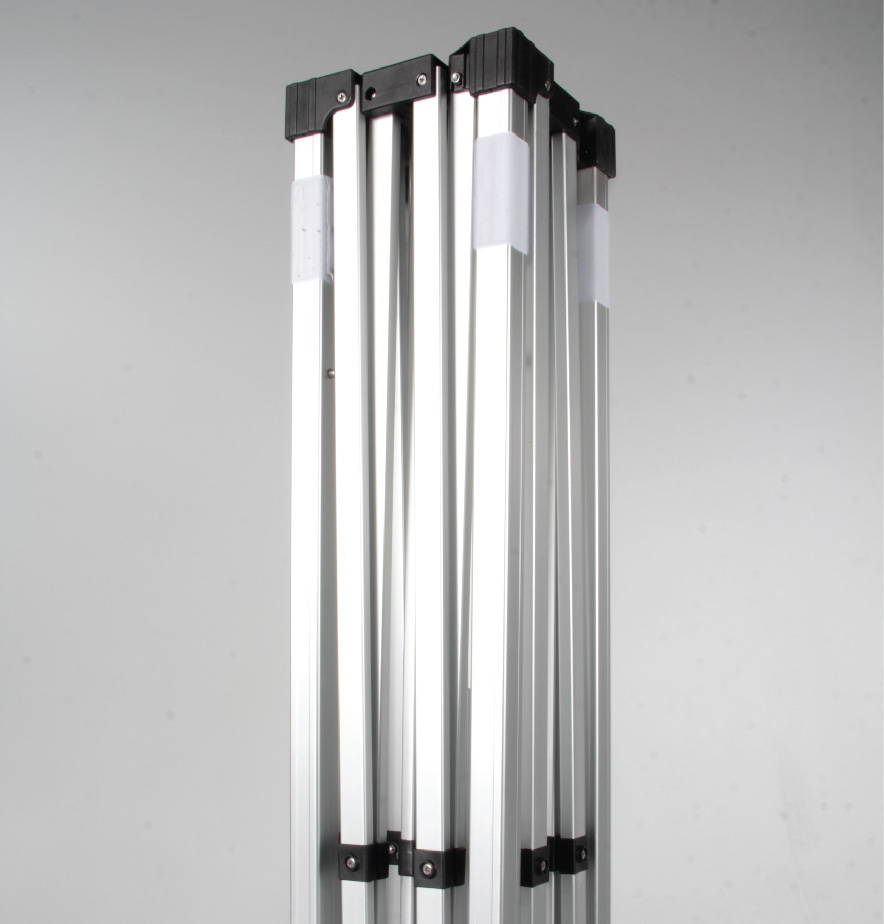 The Dura Max is our entry level heavy duty pop up tent frame.
Aluminum Frame
8 Year Frame Warranty
42 LBS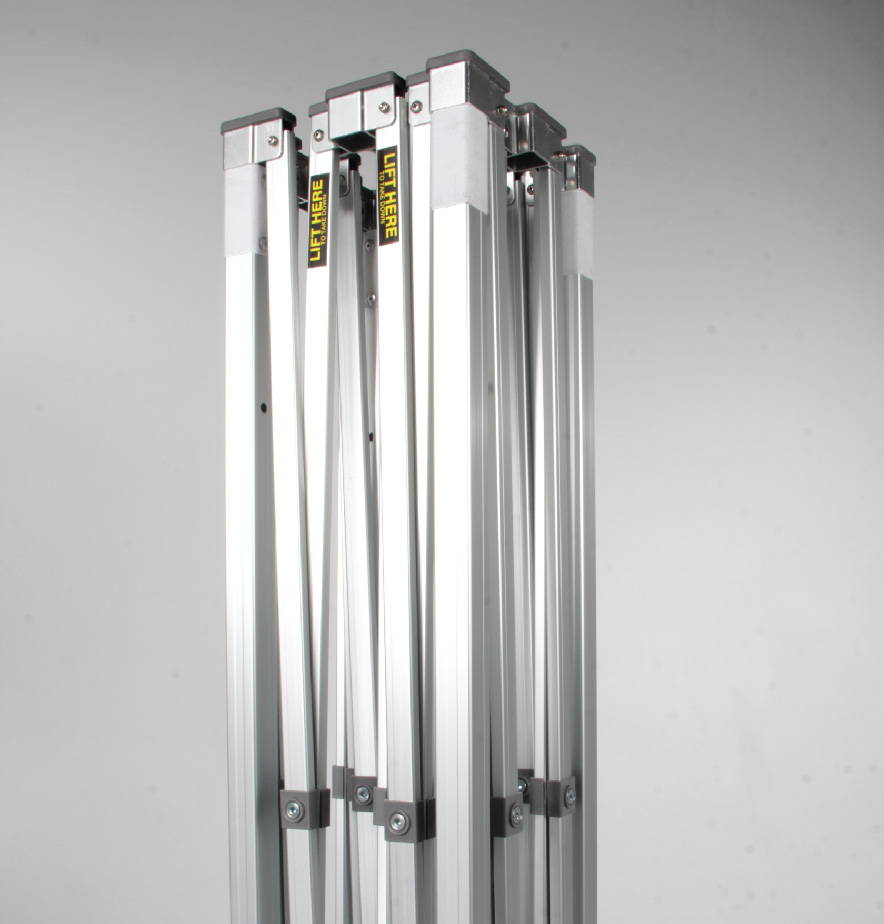 The Econo Max is our entry level heavy duty pop up tent frame.
Aluminum Frame
9 Year Frame Warranty
63 LBS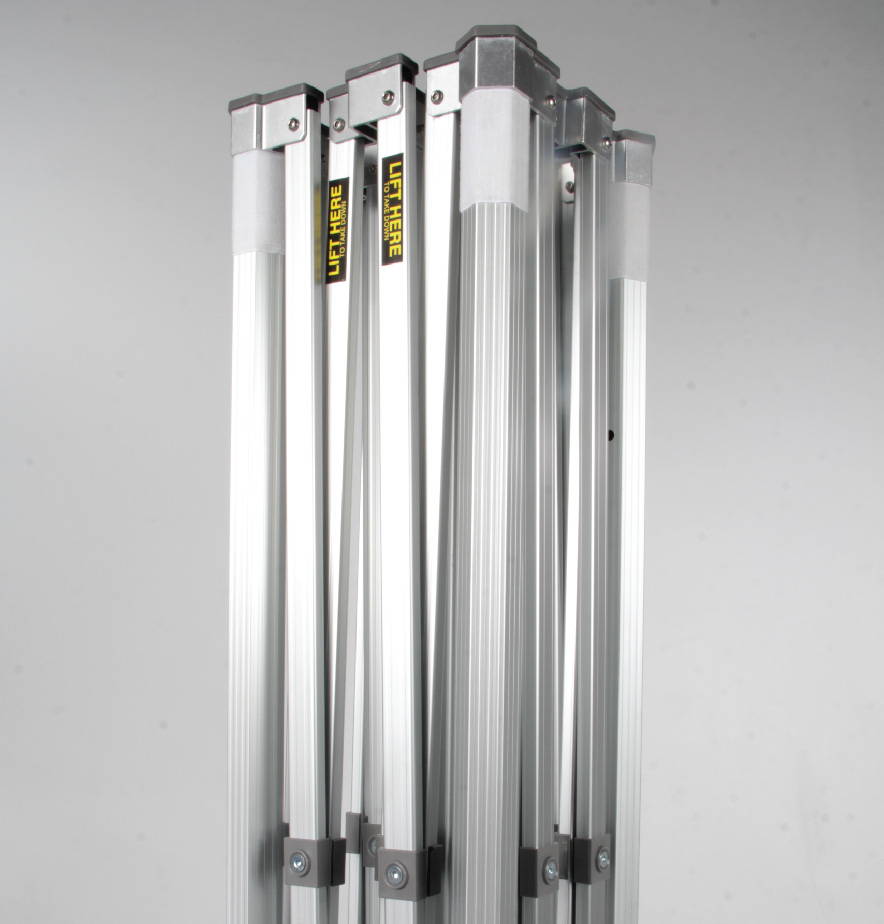 The Econo Max is our entry level heavy duty pop up tent frame.
Aluminum Frame
Lifetime Frame Warranty
67 LBS